Agios Nikolaos, the capital of the Prefecture of Lasithi, is one of the most highly developed tourist towns in Crete.
It lies along the west of the Mirabello bay. The main road axis of the island passes right outside the city limits, connecting it with Heraklion to the west, Sitia to the east and Ierapetra to the south.
Agios Nikolaos is the administrative, communications, cultural and commercial center of the Prefecture, with approximately 10000 inhabitants. The climate in the area is mild with extremely low humidity. It is an ideal place to relax and recover one's energy. Famous for its sandy beaches and beautiful bays inside the city limits like Kitroplateia, Ammos beach, EOT beach and Ammoudi are within walking distance from the city center. The landmark of the city is definitely the small lake, known as "Voulismeni" that is located in the center of the city, at the foot of the cliffs. Its shape is circular with a diameter of 137m.
According to the mythology, the goddess Athena used to take her bath in this lake. The depth of the lake is 64 m and was connected to the sea with a small canal opened at 1870.
It is an especially picturesque site with many open-air cafes and restaurants along the bank.
Small boats leave the harbor daily and allow guests to visit the Venetian fortress of Spinalonga near Elounda. Every summer the Municipality of Agios Nikolaos organizes cultural events, music and dance events, theatrical performances, exhibitions, shows. Also during the Naval week, artistical swimming, water skiing, wind-surfing contests are organized.
Agios Nikolaos also possesses one of the finest Archaeological Museums in Crete, where splendid archaeological findings from throughout the Prefecture of Lasithi are exhibited. (Currently under reconstruction)
In the site where the town is built today, used to be the ancient "Lato pros Kamares", which was the harbor of 'Lato', an important and powerful city located near the village of Kritsa.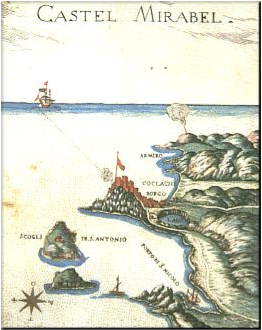 The tower of Mirabello-Old gravur
In the Roman and the first Byzantine period it also served as a harbor.
During the Venetian occupation, the Venetians built the fortress Mirabello (meaning beautiful view), in the site where the Prefecture building stands today. Nothing of the fortress is saved today, but it gave its name to the Prefecture and to the bay, that is called Mirabello.
When the Venetians built another port in the area of Elounda in the northwest, the city was renamed "Porto di San Nicolo" and from that moment on the importance of the harbor of Agios Nikolaos was declined.
The city is named after the small Byzantine church of Agios Nikolaos, located in a nearby peninsula. The church has fine frescoes from the 8th, 10th and 11th century.